Firstmac's expertise in Residential Mortgage-Backed Securities has seen over $29 billion in RMBS issued since 2003. High Livez gives everyday investors access to this market, which is usually restricted to institutional investors.
Fund performance to 31 March 2021
This month marks 10 years of operation for our High Livez fund and we are very proud that, by any measure, it has been a great success.
The fund has consistently met or exceeded its investment objectives, delivering an annual return of 5.60%pa since inception, outperforming the official cash rate by more than the fund's target, and delivering remarkable capital stability.
We would like to thank all of our investors for their vote of confidence in backing the fund and our management through some very challenging times including the ongoing COVID-19 crisis, and we look forward to continuing to deliver on the fund's investment objective of providing stable monthly income returns in the future.
We are pleased to report that in the month of March, the High Livez unit price continued to be stable, increasing slightly to $1.0517 compared with $1.0515 in February.
The unit price bottomed in March 2020, at the height of COVID-19 fears, when it fell to $1.0342, before bouncing back.
The RMBS bonds that our fund invests in remain in strong demand from institutional investors which continues to underpin the strength of our unit price.
The fund achieved a distribution return for the month of March of 2.56% per annum, which was a solid 2.53% above the official cash rate of 0.03%. The Official Cash Rate was reduced to a target of 0.10% in early November.
Underlying mortgage bond (RMBS) performance has been excellent, buoyed by a strengthening economic recovery, and rising house prices.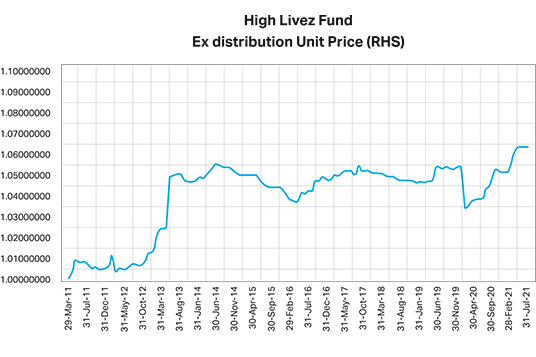 Australian Economic Update
Australian economic indicators released in March showed signs of accelerating recovery. Q4 GDP rose a greater-than-expected 3.1% quarter-on-quarter, led higher by consumer spending, housing and business investment. February retail sales fell 0.8% month-on-month but were up 9.1 year-on-year while February housing finance commitments fell in value by 0.4% month-on-month, but were up 48.8% year-on-year. February employment rose 88,700 (market forecast +30,000) and the unemployment rate fell to 5.8% (market forecast 6.3%) from 6.4% in January. The RBA board met early in the month and left interest rate settings unchanged. The cash rate; term funding rate; and 3-year bond yield target are all 0.10%. The RBA reaffirmed that it does not expect to lift interest rates for at least three years.
Australian Credit Markets
Risk assets continue to rally in March, supported by the further signs of recovery in the domestic economy, in addition to expansionary monetary and fiscal policies. The US S&P 500 hit record highs at the end of the month, while credit markets continued to grind tighter. Domestic senior bank paper is now trading at 32 basis points in the 4-year part of the curve, which is less than half the spread it was trading at pre-Covid. While senior bank spreads have been assisted by the RBA's Term Funding Facility program, other parts of the Australian credit markets are also significantly tighter than pre-COVID-19 levels. Recent issuance in the securitisation markets, such as for RMBS, have seen demand outstretch supply by up to a factor of 10 times causing transaction pricing at the lowest levels in over a decade. While it's difficult to image senior bank spreads moving much tighter from these levels, there still appears to be room to move further in securitisation assets.
Historical performance assumptions
*Total return for the 10 years to 31 March 2021 and 5.60% p.a. since inception on 29 March 2011. The total return is the trust's consolidated performance over the period referenced. Past performance is not indicative of future performance and should not be the only factor considered when selecting an investment. Performance is calculated on an initial investment for $10,000 with distributions reinvested. Ongoing fees and expenses have been applied however individual taxes are excluded. This information is general information only and does not take into account your individual objectives, financial situation or needs. You should assess whether the information is appropriate for you and consider obtaining financial advice prior to making an investment decision.